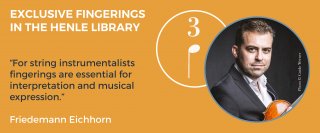 The Henle Library
The no. 1 among apps for musicians.
A must for professionals, amateurs, students and teachers.
The Henle Library app combines G. Henle Publisher's reliable Urtext and the latest technology – on your tablet computer. And there's so much more: Make the most of the many unique features of the digital Henle scores. They go far beyond what a print version or a PDF can offer. › Features
Over 30,000 musicians around the world, including many stars of the classical music scene, now hold the Henle Library app in high regard. › Ambassadors
The fingerings supplied by some of these musicians, as well as those of many great musicians from the past, are available to you for selected works exclusively in the app. › Fingerings
Why don't you try it out - you'll be delighted with it.
The Henle Library is available in the following languages: German, English, Chinese, Japanese and Korean.
Download the app to your tablet (not for smartphones):
The "Henle Library" app runs on the iPad 2 and higher and on the iPad Mini 1 and higher (the iPad Air and higher and iPad Mini 2 and higher are recommended; performance limitations must be expected on tablet PCs with lower specifications). The app also runs on tablets with Android version 5.0 or higher and "large" screen size (Android definition). It does not run on smartphones.