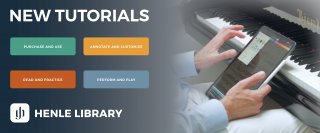 The Henle Library
A new age of music making has started.
The Henle Library app combines G. Henle Publisher's reliable Urtext and the latest technology – on your tablet computer. Practise, rehearse and make music – whenever and wherever you like. Make use of the many unique features of the digital Henle Library and go far beyond the printed page › Features.
The Henle Library is available in German, English, Chinese, Japanese and Korean.
A must for professionals, amateurs, students and teachers.
Download the app to your tablet (not for smartphones):
The "Henle Library" app runs on the iPad 2 and higher and on the iPad Mini 1 and higher (the iPad Air and higher and iPad Mini 2 and higher are recommended; performance limitations must be expected on tablet PCs with lower specifications). The app also runs on tablets with Android version 5.0 or higher and "large" screen size (Android definition). It does not run on smartphones.